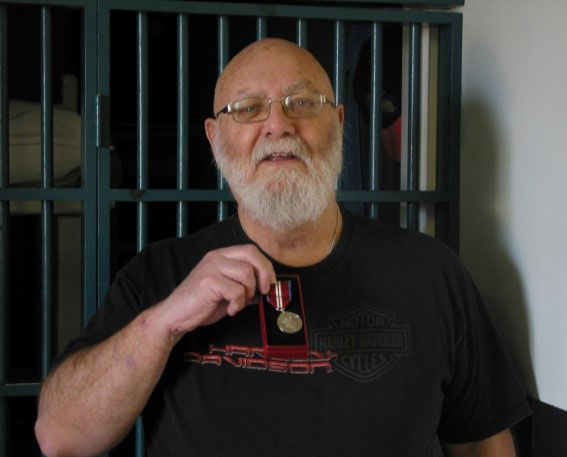 I am sad to announce that one of our long-time friends and volunteers has passed away. Dave Burke began his career with the Canadian Penitentiary Service at Kingston Pen in 1967 as a Correctional Officer and he remained until his retirement in 2001. Dave experienced many events and incidents at KP over those years, some good, and some bad.
Dave began volunteering with us in 2005 and was a steadfast member of our volunteer team for 14 years until health issues forced him to "retire" from the Museum in 2019. During the summer season, Dave greeted our visitors faithfully two days a week and happily shared his many experiences and insights.
In 2012, he was awarded the Queen's Diamond Jubilee Medal in recognition of his dedicated fundraising efforts with various motorcycle clubs including Ride for Sight; Ride for Dad; the Humane Society and the military. (Dave is pictured here with his medal when he brought it in to show us.)
Very recently (2022), he wrote a book about his life and career at K.P. entitled "Color Me Blue". I'll look forward to reading this, but with a different appreciation now.
Dave passed away peacefully in Kingston on February 7th with his wife, daughter and family by his side.
Dave, Thanks for your service, friendship and your many contributions to the museum and the preservation of Canada's correctional history.
A celebration of life will take place in Kingston on Monday, February 13th from 1 to 3pm at James Reid Funeral Home on John Counter Blvd.
Dave St. Onge